Featured Vacation Rental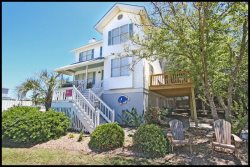 Northern Exposure - Nicely furnished 3 Bedroom Home Close to Beach with WIFI

Atlantic Ocean 2 - Premium 3 bedroom directly oceanfront townhome with beautiful views of the ocean, community pools, and on-site restaurant.

Beach Bound - Newly renovated and furnished 3 Bedroom Cottage with beautiful water views! Beach Bound offers guest the feel of a new home loaded with charm!


Beach and Racquet C203 - Nicely refurnished 2 bedroom condo on the quiet North end of Tybee Island. Beach and Racquet C203 has beautiful views of the bay, sunsets, ships, shrimp boats and the pool from your private balcony.


Doc House - 4 Bedroom Waterfront Home with Private Dock and Spectacular Views!

Sandys North Shore - Beautiful newly furnished 3 bedroom home complete with great beachviews from the decks and screened porches.
The Yankee Peach - 3 bedroom renovated cottage with Hot Tub, screened porch, and located close to the beach.
Don't miss your chance to
enjoy a last minute beach getaway
to Tybee Island, GA!
Call today and let our
vacation planners help you
discover a great last minute deal.
<CLICK FOR TYBEE VACATION DEALS>
Email List Sign Up
Vacation Rental Specials
Special Savings on
Select Vacation Rentals
Book Now to SAVE!
The Last Song Movie and Tybee Vacation Package
Now Playing in Theaters

This past summer Tybee Island was excited to host to the filming of "The Last Song". Touchstone Pictures has now released the trailer for director Julie Anne Robinson's "The Last Song", which opened in theaters on March 31st. The movie is based on best-selling novelist Nicholas Sparks' ("A Walk to Remember," "The Notebook") novel, the drama stars Miley Cyrus, Bobby Coleman, Liam Hemsworth, Hallock Beals, Nick Lashaway, Carly Chaikin, Nick Searcy, Kate Vernon, Kelly Preston and Greg Kinnear.
The film is set on Tybee Island and is where an estranged father (Greg Kinnear) gets a chance to spend the summer with his reluctant teenaged daughter (Miley Cyrus), who'd rather be home in New York. He tries to reconnect with her through the only thing they have in common—music. "The Last Song" is a story of family, friendship, secrets and salvation, along with first loves and second chances.

The Last Song Vacation Package

This add-on to your vacation will be a fun option for families visiting this Spring.
Copy of "The Last Song" book by Nicholas Sparks, paperback edition (one copy per package)

Movie pass to go see The Last Song movie in theaters (1 ticket per person)

Ticket to visit the Tybee Island Lighthouse and Museum (1 ticket per person)
Ticket to visit the Tybee Marine Science Center (1 ticket per person)
Save $10 off a $50 Meal Purchase at The Crab Shack discount (1 per package)
Save 15% off your check at Sting Ray's Seafood Restaurant (Miley Cyrus' favorite restaurant on Tybee! She even sang here during her stay, watch video) (1 per package)
SavannahMenu.com Visitor VIP Dining Club Card - Save at over 100+ area restaurants and businesses. (1 per package)
The Last Song Visitor Map. Let us guide you to points of interest on Tybee and in Savannah from the movie and where the stars liked to visit while staying here. (1 per package)
Early Check-In and Late Check-Out if available at no charge. Must call day prior to arrival and day prior to departure to confirm availability.

Cost of Package: $99.00 (2 adults and 2 children)*

Package can be purchased a la carte by contacting us directly.
Base Price: $35, Cost per additional adult: $25, Cost per additional child (6-17yr): $20

* Package price does not include accommodations. When booking package online indicate the number of adults and children you would like to purchase the package for and we will adjust the price accordingly. Example: 1 adult and 3 children would cost $95.00. Package is only available while "The Last Song" is in theaters. Package may be available to purchase at check-in. All sales are final. Tybee Vacation Rentals can not guarantee reserved seats, showtimes, availability, or business hours of the other entities whose tickets this package contains. No refunds will be issued for unused tickets.
** We do not recommend including children 5 years of age and under in the package as rules vary between the theater and other attractions on at what age they would receive free entry. We recommend purchasing tickets directly from the entity should they be required.