Featured Vacation Rental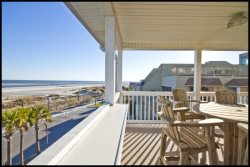 Porpoise Point 6 - Luxury 3 Bedroom Oceanfront Condo, Elevator, WIFI

Atlantic Ocean 2 - Premium 3 bedroom directly oceanfront townhome with beautiful views of the ocean, community pools, and on-site restaurant.

Beach Bound - Newly renovated and furnished 3 Bedroom Cottage with beautiful water views! Beach Bound offers guest the feel of a new home loaded with charm!


Beach and Racquet C203 - Nicely refurnished 2 bedroom condo on the quiet North end of Tybee Island. Beach and Racquet C203 has beautiful views of the bay, sunsets, ships, shrimp boats and the pool from your private balcony.


Doc House - 4 Bedroom Waterfront Home with Private Dock and Spectacular Views!

Sandys North Shore - Beautiful newly furnished 3 bedroom home complete with great beachviews from the decks and screened porches.
The Yankee Peach - 3 bedroom renovated cottage with Hot Tub, screened porch, and located close to the beach.
Don't miss your chance to
enjoy a last minute beach getaway
to Tybee Island, GA!
Call today and let our
vacation planners help you
discover a great last minute deal.
<CLICK FOR TYBEE VACATION DEALS>
Email List Sign Up
Vacation Rental Specials
Special Savings on
Select Vacation Rentals
Book Now to SAVE!
Calendar of Events
Little Grand Wine Tasting

October 25
The Tybee Post Theater is launching a mid-year Tybee Wine Festival event on October 25, from 3:00-6:00pm which will be staged at the Tybee Island Social Club. The event will feature 60 wines along with food sampling's from Social Club and the
Tybee Island
Fish Camp, and a goodie bag for all attendess. Live music by The Accomplices abd the James Smith Jazz Trio. Tickets are $25.00. More info and Purchase Tickets.
Tybee Arts Association Show and Sale

November 7-10

Give the gift of original art this holiday season! Local art includes paintings, driftwood sculpture, fiber arts, stained glass, prints, jewelry, photography, art quilts, glass art, pottery, handcrafted furniture, and much more. Friday 6-9 p.m., Saturday 10 a.m.-6 p.m., and Sunday 10 a.m.-5 p.m. at the Tybee YMCA, 5th Street and Butler Avenue.
Free Admission Days at Fort Pulaski
November 11
Fort Pulaski entrance fee-free day will be on November 11th, Veterans Day. Located just west of Tybee Island off of Hwy 80 is Fort Pulaski, built between 1829 and 1847. During the Civil War, Union forces camped on Tybee Island and fired their powerful new cannons at the fort, damaging it severely and making brick forts obsolete worldwide. Fort Pulaski is a fine example of historic military architecture. Along with its exhibits, Fort Pulaski offers an abundance of outdoor activities including hiking, biking, birdwatching and fishing. There are also several nature trails.
Tybee Salutes Heroes 2014 - Parade
November 15, 1:00pm
Tybee Island is excited to host the inaugural island-wide Tybee Salutes Heroes 2014. Businesses all over the island will be offering military specials and discounts. There will also be a parade on Saturday at 1:00pm which will travel from 14th Street to Butler Avenue and the North to 5th Street where it will end at the Verterans Memorial located at Memorial Park.
TYBEE VACATION RENTALS IS PROUD TO OFFER ALL ACTIVE AND RETIRED SERVICE MEMBERS
& THEIR FAMILIES A 25% DISCOUNT FOR STAYS NOVEMBER 10-17
Coupon Code: HEROES2014
Third Thursday Concert Series

November 20
Join in the celebration at Tybee Island Pier and Pavilion for a concert to recognize the Third Thursday! Every Third Thursday, the city of Tybee holds a concert at 5:30 PM for the public to enjoy. Come out and join the locals as we jam out to this free concert, while enjoying the beach of Tybee Island!
November 29
The Pickle Run is an annual Tybee Island 5K run and walk to raise funds for the Ronald McDonald House Charities of the Coastal Empire. For more details visit: 5K Pickle Run
Lights on For Tybee

December 5
Residents and Guests gather on Tybrisa Street at the Strand from 6:30-9pm for the annual lighting of the Tybee Christmas Tree, enjoy the choirs and dance student performances. Complementary refreshments and extended store hours throughout downtown. TybeeForTheHolidays.com
Tybee Arts Association Last Minute Christmas Art Show and Sale

December 5-8

Give the gift of original art this holiday season! Local art includes paintings, driftwood sculpture, fiber arts, stained glass, prints, jewelry, photography, art quilts, glass art, pottery, handcrafted furniture, and much more. Friday 6-9 p.m., Saturday 10 a.m.-6 p.m., and Sunday 10 a.m.-5 p.m. at the Tybee Arts Association Building, 7 Cedarwood Avenue.
Tybee Island Christmas Parade
December 6
Everyone loves a parade during the holiday season. Festive floats and spirited parade participants will fill the streets as they lead Mr. & Mrs. Claus from the 14th Street Parking Lot to the Tybee Gym for photo ops and family fun. 1-3pm. TybeeForTheHolidays.com
New Year's Eve Fireworks

December 31

Bring in the New Year with a bang! Enjoy the show launched from the Tybee Pier at the stroke of midnight at one of Tybee's many restaurants and bars, or watch it from the beach. It promises to be spectacular!
Polar Bear Plunge
January 1
The Tybee Polar Plunge returns to Tybee Island on Wednesday, January 1, 2015! Join thousands of people and take the plunge into the brisk Atlantic Ocean at 12:00 noon on New Year's Day. It's a great way for the ENTIRE FAMILY to start off the New Year! The 2015 Tybee Polar Plunge also welcomes the return of the "Gang of Goofs" contest and Parade! We are looking for groups of at least three (3) or more to dress up in their craziest, wackiest and funniest costumes! The Goofs will parade in front of an esteemed panel of judges to compete for some great prizes! The first place team will also receive the coveted Le "Gang of Goofs" trophy which will be engraved with their team name and displayed at the location of their choice for an entire year. Visit
www.tybeepolarplunge.com
for more details
.
February 6-7
The Critz Tybee Run Fest has been developed into today's event through a series of changes and advances over the past few decades. Over the years, many people have assisted in organizing the events that have lead up to the Critz Tybee Run Fest; between course and location modifications, changing sponsors and a variety of other adjustments, the new and evolved event format has been able to improve significantly year after year.
Participants now have the opportunity of doing 1, 2, 3, 4, or all 5 events, whichever they choose. By participating in all 5 events, the distances add up to 26.2 miles; a full marathon.
For more information visit: www.critztybeerun.com/


SAVANNAH EVENTS

Tybee Island is located just a short, 20 minute drive from Historic Savannah which offers a wide array of exciting annual events.
Savannah's River Street has an arts/crafts festival every first Saturday of the month. There's live music, entertainment, food and fun. There are also fireworks and an oyster roast on the first Friday of each month.
Savannah Rock and Roll Marathon